Pongal Essay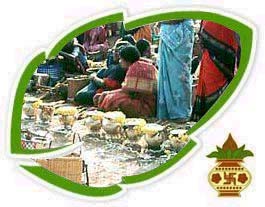 Pongalfestival.org brings you a nice collection of some beautifully written Pongal essays. These essays have been contributed by our readers and will help you enhance your knowledge about the Tamil harvest festival. If you also have a different and new idea about Pongal and its celebration, please feel free to send it to us.
Pongal - the Harvest Festival
Pongal is a Tamil harvest festival. It is same as Thanksgiving Day. In an agriculture based civilization, harvest plays an important role. The farmer cultivating the land depends on his cattle, timely rain and the Sun. Once a year, he expresses his gratitude to everything which symbolizes the harvest celebration. With the end of the wet month of Margazhi (mid December to mid January) the new Tamil month of Thai heralds a series of festivals. The first day of this month is a festival day known as "Pongal Day". Pongal means the "boiling over" of milk and rice during the month of Thai.
Contributed by: Vamsi
--------------------------------------------
Bringer of Good Luck
As one stand on the threshold of the harvest season, everyone exchange Pongal wishes, hoping that it brings the harbinger of good luck, good fortune and good cheer. People wish each other good times, happiness, peace and prosperity. They also greet each other saying "Pongalo Pongal" and "Pongum Mangalam Engum Thanguga" in Tamil.Tamils wish each other to start the New Year with mutual respect, understanding, trust and sincere cooperation.
Contributed by: Lakshmi