Pongal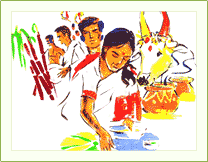 Pongal is one of the most popular harvest festival of South India, mainly Tamil Nadu. Pongal falls in the mid-January every year and marks the auspicious beginning of Uttarayan - sun's journey northwards. Pongal festival lasts for four days. Celebrations include drawing of Kolam, swinging & cooking of delicious Pongal.
Pongal – The Festival Celebrating Prosperity (Jan 14, 2017, Saturday)
India is a land whose primary occupation is agriculture. Changes in season thus play a very important role for Indian farmers. Their lifestyles and celebrations are thus exclusively linked to the seasonal landmarks in an year. There are many Indian festivals which are in tune with a farmers lifestyle and also with the seasonal variations in an year. Pongal, the harvest festival of the southern Indian state of Tamil Nadu is one of them.
more...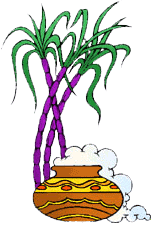 Here is a brief description of the four-day-long celebrations of Pongal festival.

Bogi Festival


Surya Pongal


Mattu Pongal


Kaanum Pongal


How To Make Pongal


Check out these interesting Pongal Kolam design ideas.


This Pongal, adorn your home with these exotic Kolam patterns!