Pongal Recipes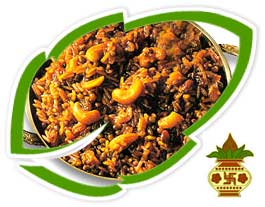 The best of South Indian dishes are relished during the harvest festival of Pongal making the occasion a gourmet's delight. To help you participate in Pongal and zestfully enjoy the festival here are some selected Pongal Recipes. Try these popular recipes with love and share the dish with family and friends and have a blast this Pongal!!
In preparation for Pongal, houses and courtyards are cleaned and a new string of fresh mango leaves is hung at the front door of the house. The making of sweet rice is the most important preparation done. This is a dish prepared with rice, dal, jaggery, dry fruits, sugar and milk. All these ingredients are cooked in a new clay pot in the open and allowed to boil over, signifying plenty and prosperity for the year ahead. This is offered to the Sun God and partaken as prasad.
Other Related Links
Salt-N-Peppers Plus - Offers quality spices, custom spice blends, kitchen gadgets, spice racks and recipes for practical, easy and healthy preparation.